Thanks to the announcement of Midnight Sun by Stephanie Meyer, the long-awaited retelling of Twilight as told through Edward Cullen's perspective, there was a renewed talk of the Twilight saga and its problematic content. Those who read Twilight back during its prime know now that it was not as great as we remember it. But, for many of us, it got us into reading and introduced a whole new young adult genre, plus opened the door for new authors.
After some recent rereads, I looked over my shelves, both in person and on Goodreads, at books I haven't read in years. It got me thinking about other books I loved at the same time I read the Twilight books. And all the book boyfriends I had back in the day.
Here are my five most notable first book boyfriends I had:
Jacob Black from the Twilight saga by Stephenie Meyer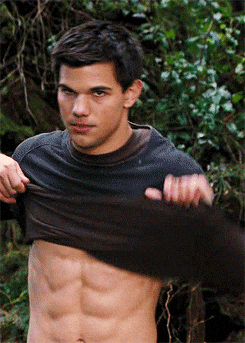 Yes…I was Team Jacob. After New Moon, Edward Cullen was on my shit-list. I don't think I liked him much to begin with; why did Bella want to be with a guy that wanted to kill her? Plus, moody, broody boys don't do much for me, even back then. While Jacob's friendship helped Bella through heartbreak, I admit he probably wasn't much better than Edward. Jacob was sweet, but he had a temper and could be as possessive as Edward. Still, you can't deny the eye candy that was Taylor Lautner….
Jesse da Silva from The Mediator series by Meg Cabot
Jesse was the one that started it all. While anyone else who read Meg Cabot probably swooned over Michael from The Princess Diaries, I could not stand him. Even at fifteen, I knew it was weird for him to like a fourteen-year-old…but I digress. Jesse, on the other hand, was patient, mature, polite, caring, and protective but not possessive. He was smart and genuinely wanted to help people, despite being a ghost.
Derek Souza from The Darkest Powers trilogy by Kelley Armstrong
Another werewolf, Derek was a grump when he was first introduced in The Summoning. Gradually, he opens up and becomes less of a grump. He can be a little too overprotective of Chloe and his brother Simon, but his intentions are always good. He knows his size can intimidate people, so he tries to downplay it by wearing big clothes. He pretends the discrimination doesn't bother him, yet he goes out of his way to try to be good all the time. And I'm pretty sure Derek is the reason I like green eyes so much.
Will Wagner from Avalon High by Meg Cabot
Meg Cabot wrote a lot of my book boyfriends back in the day. Aside from Jesse, Will Wagner was one of my favorites. Since he was the reincarnation of King Arthur, he was honorable and good-natured. His dad was a hard-ass, his stepbrother a pain in the ass, and his girlfriend was cheating on him with his best friend, yet Will rolled with it all in the most mature way. He's the reason I wonder why there are so many jerk love interests in young adult literature.
Theseus Cassius Lowood from the Anna Dressed in Blood duology by Kendare Blake
I don't always love the sarcastic, snarky boys in YA. Theseus Cassius Lowood, aka Cas, is one of the exceptions. His sarcasm is more no-nonsense. He is smart and thinks on his feet. He doesn't glamourize killing ghosts and is motivated, if obsessed, with his mission. Those who do have his loyalty, though, Cas is devoted to.
Is anyone else NOT going to read Midnight Sun, like me?