To borrow or to buy?
As someone pursuing her Master's in Library and Information Science, the answer should be simple, right? However, while I love the institution of libraries as a whole, I am still a book lover and a book collector (or addict or hoarder) overall.
I do my best to borrow and buy in equal measures. But when choosing which to do for which books, it depends on a number of different factors.
The first is the most obvious: finances. Sometimes, I simply do not have the means to buy a ton of books I am only interested in. Like the first four months of this year, I had no choice but to use the library to sedate my book-buying urges. There have been times I do have money, except I still need to be choosy on how I spend it if I need to save for something else (cough student health insurance cough).
There have been books I was interested in reading, except not enough to justify spending money. In other scenarios, it was a matter of which came first. Books I wanted to check out from the library were then available at a discounted price at Barnes and Noble. There have been books that I wanted to read right this second and I did not hesitate when I saw it available at my library. Only that often led to checking out more books than I could read and having to return them unread.
This leads into a problem I've created for myself. For a while, whenever I did not read a library book, I checked it out again at a later date. Sometimes, I did manage to read them on time. But more often than not, I did not read them a second time around, for one reason or another. I know librarians don't care how many times you check out a book, but it got embarrassing after a while.
Instead of getting over this embarrassment, whenever I return unread library books, I add them to my Amazon wish list to buy at a later date. In a way, I feel like this cheats the "borrowing before buying" system. Especially since some of these books were random titles I found while browsing the library stacks. Still, this somehow influences my desire to buy them anyway, even if that was the first time I had heard anything about them.
Another factor that determines whenever I borrow or buy a book is the level of hype surrounding it compared to my overall interest. Such examples include Everless by Sara Holland and The Belles by Dhonielle Clayton. Both of these books got a significant amount of buzz when they were released. I sometimes buy into hype more than I care to admit. Only the synopsis for both these books seemed so far out there for me to comprehend (even for fantasy novels), that I could not convince myself to spend money. In some cases, there are books that were so hyped, I'd get so excited for them, I borrowed them or bought them, depending on whichever came first.
The next factor is my previous experience with a specific author or a book similar to something I read before that I didn't enjoy. A recent example of this scenario is Aurora Rising by Aimee Kaufman and Jay Kristoff. I had bought into the hype surrounding their previous work, Illuminae. At the time, I was not deep into reading science fiction yet, so I got it from the library. Unlike most people (and their brothers and mothers), I did not love Illuminae. I don't plan on continuing with the series either. So, when Aurora Rising was released, I had no interest in picking it up.
Once again, the hype won out. Also, I could not deny that this plot was much more intriguing to me than Illuminae. The cover being super pretty didn't help. So, I caved and got it from the library. Thankfully, this time around, I was not disappointed. However, there have been other situations where I was disappointed again by an author I had faith in. And, no, I do not want to talk about Whitefern by V.C. Andrews….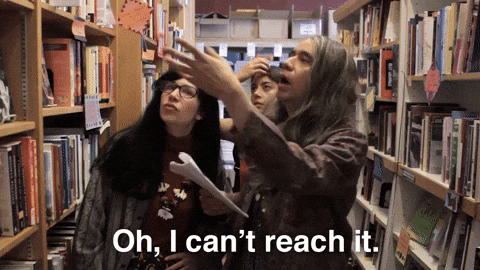 Availability of a book has recently, unexpectedly, become a factor of whether I borrow or buy. To my naïve surprise, not all books are readily available online. If I wanted an older title, such as Strands of Bronze and Gold by Jane Nickerson, I would have had to scour the Internet to find a used copy in relatively good condition, whereas I could just wait a couple of days for the interlibrary loan to go through (and not have to spend any money, of course). Sometimes, if a book is not easily accessible through other avenues, or it's a book I don't think I will want to buy later (as was the case with Aurora Rising), I will keep that library book to read instead of returning it.
If you use your local library, how do you decide what books you want to check out?
How do you decide what books you want to buy?
If you read a book from the library and enjoyed it, do you buy it later?
What are your thoughts on borrowing and buying overall?
Let's discuss!