Like any bookworm, I have a large to be read pile that keeps growing. Not that I mind—I accept it at this point. Still, there are books sitting on my shelves unread, for longer than they probably should be. All for different reasons that I will try not to get into over and over again. You all just want to see the books, right?
I saw this book tag on Crystal's blog.
A book that a friend is always telling you to read.
I don't have a lot of friends who are readers. But one who is a reader has frequently recommended the Gemma Doyle trilogy by Libba Bray. I have wanted to read this series for years anyway.
A book that's been on your TBR forever, yet you still haven't picked it up.
Crimson Bound by Rosamund Hodge, which is a fantastical retelling of Little Red Riding. I loved her debut novel, Cruel Beauty, a retelling of Beauty and the Beast blended with Greek mythology. I want to get back into Rosamund Hodge's books.
A book in a series you started, but haven't gotten around to finishing yet.
My Plain Jane by Cynthia Hand, Brodi Ashton, and Jodi Meadows. It's the second in a series of companion novels about famous characters named Jane from history, in which the familiar stories are turned on their heads with a humorous fantasy twist. My Plain Jane is a retelling of Jane Eyre by Charlotte Bronte.
A classic you've always liked the sound of, but never actually read.
For one year of summer reading in high school, I was supposed to read Wuthering Heights by Emily Bronte. Only I read enough of it to fill out the worksheet. Now I'm an older and wiser reader, fully embracing my hopeless romantic side, I want to reread Wuthering Heights from start to finish.
A popular book it seems everyone but you has read.
The Hate U Give is a book I swear everyone and their mother has read and loved.
A book that inspired a film/TV adaption that you love, but just haven't read yet.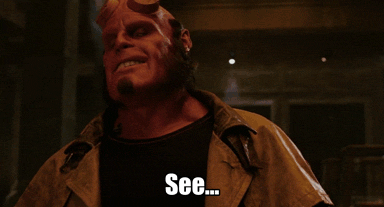 I had no idea the Hellboy movies were based off comic books until I actually looked it up. I love the 2004 film directed by Guillermo del Toro with Ron Perlman as Hellboy and Selma Blair as Liz Sherman, as well as the sequel, Hellboy 2: The Golden Army. To this day, I have not read the comic books nor do I really have any desire to do so.
A book you see all over Instagram but haven't picked up.
I see a lot of books on Instagram that I have not gotten to yet. I swear it changes almost daily. Six of Crows duology by Leigh Bardugo…The Cruel Prince by Holly Black….The list goes on.
I tag:
What books have been sitting on your TBR for too long?