Hi, my name is Jillian and I love the library!
If you have followed my blog for a while, you know I frequently use my local library and that, in September, I will begin my first semester of graduate school pursuing my Master's in Library and Information Science. I saw this tag done on Comfy 4 Books, only I don't know who the original creator for this tag is, if there is one. But if you know, leave a comment and give them credit, please!
On to the Library Lover's book tag!
How often do you visit your local library?
At least three times a month, not that I've ever counted. There have been periods where months would go by before I stepped inside my local library again. But ever since I got my acceptance letter, I've made it a point to visit whenever I can. First trip is usually to pick up books I want to read. The following trips involve either returning the books as I read them (or lose interest in them) or picking up more, like if I put a book on hold or I'm finished with the stack I already have.
Are you the type of person who checks out more books than you can read or are you someone who checks out the exact amount of books you intend to read before they are due?
Usually, I fall into the former category, but sometimes I do check out a smaller amount that I know I will finish before their due dates. Honestly, sometimes it depends on my financial situation or my mood towards my unread books at home. Such as, if I am in between temp assignments, I tend to check out a lot of books to sedate any book-buying urges. But I love the idea of free books in general.
How old were you when you got your first library card?
I was about fourteen, I think. My family had moved and our new house (where we still live) was within walking distance of the local library. I distinctly remember walking over there with my mom and brother then being deeply disappointed. I walked home with a library card but also an incomplete Princess Diaries series. Back then, the library was poorly stocked. I read what I could, then returned them all.
I didn't visit the library again until I graduated college, when I was twenty-three. It had received funding in recent years and the city had made strides to improve the place. I walked out with books I actually wanted to read and a new library card I was happy to have.
Do you go to your library for a particular book or do you check out anything that peaks your interest?
When I go to the library, it is usually for a particular book or books. Sometimes, though, I'll browse if I have the time. Depending on how interested I am in a book that catches my eye, I'll either get it then or some other time. On my library account, it has an option of where you can make lists of books you want to read, so I add it to one of my TBR lists to check out later (I had to make a few TBRs because one list was getting too big and hard to keep track of the books).
Do you only check out books or do you also get DVDs, audiobooks, etc.?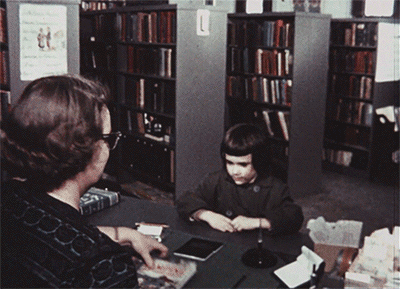 I only check out books. I'm bad about watching my own DVDs, never mind checking any out from the library. While I appreciate audiobooks and e-books as a reading tool that helps others, I personally prefer physical books.
From what section of the library do you check out the most of your books?
Mostly the young adult section and other books from one of the three floors of stacks. In my library, the first floor is reserved for fiction, adult as well as some young adult, and the third floor is classics, I think.
What is your favorite part of using your local library?
Simply getting free books, the resources they have to get you a book if they don't carry it on their shelves, and being surrounded by books. Also, it is a quiet place to be when I want to get out of my house.
I tag:
& anyone else that wants to do this tag!
Who else uses their local library?